Team Building, Executive Retreats, & Virtual Team Building
by Executive Oasis International, Toronto
Are you a corporate executive concerned about the impact of the forecasted global recession on your business, team, & family?
Our shimmering collection of facilitated business team building simulations & executive retreats will help you:
build business resilience to seize hidden business opportunities
cultivate an agile mindset to pivot & reinvent your business
support your team and family in an uncertain economy
spearhead effective face-to-face, virtual, & hybrid teams to foster innovation
Since 1996, Executive Oasis International, a Toronto team building firm, has helped corporate teams from 19 countries stay ahead of the curve and the competition.
We specialize in bespoke team building custom-crafted to meet your organization's specific needs.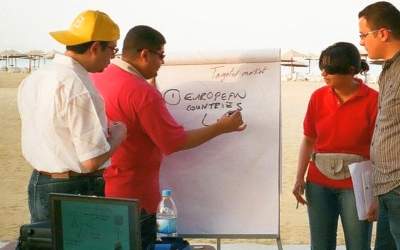 In the shift to remote work due to COVID-19, leaders may struggle to understand how to keep their teams and themselves healthy, engaged, and productive.
Wall Street Journal
What our Clients Say About Us